The Sacred Plaza of Machu Picchu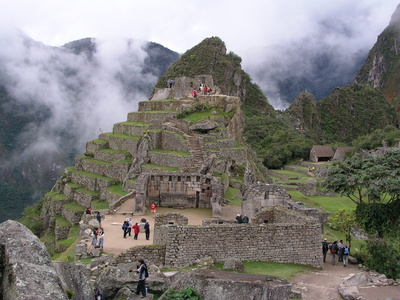 The Sacred Plaza has been designated as the political center of the urban sector. It is surrounded, or better said, consisting of the main temple, the sacred Temple of the Three Windows and the Intihuatana (religious symbol represented by a carved Aerolite in solid rock), although also sits to the House of the priest and the sacred Temple of the Moon. It is all surrounded by terraces, they not were intended for cultivation, as it would be expected, but they were designed to accommodate the large number of attendees present in all the different celebrations and festivities of the city.
On the occasion of these celebrations, the infrastructure of the city presented throughout an organization where accommodates to these events, through the construction of a series of squares that used to hold a large number of tributaries to these rituals and celebrations, some of most important character to the city being heavily linked to the deities of the civilization.
The Citadel of Machu Picchu can get to be seen two large plazas that were aimed at the conclusion of these ceremonies and rituals, although it should be noted that the most important was undoubtedly the sacred Plaza or Plaza Principal of Machu Picchu. Several excavations by the scientific community of anthropology have collected evidence and archaeological sites which have proved without a doubt that this square was intended to accommodate different sacred rituals.
The remains of the buildings which still can be seen in its ruins have corroborated that the Inca civilization was quite often a range of celebrations paying cult to their divinities, which were represented by the stars.
The sacred Plaza was the main architectural joint for Machu Picchu because of its excellent location, what made it ideal for the practice of the different doctrines of culture in an infinite number of fields such as astronomy, astrology, topography, geology, mathematics, physics and other many other scientific disciplines. However, the practice of all these different scientific doctrines had a single company and all studies were inspired on the rigorous religious devotion to the different Inca deities.
The sacred Plaza is located in one of the most optimal locations of the valley because the experts say that this location was chosen in order to make the most of everything that the site offered; its proximity to some of the most important sources of natural resources such as stone quarries, facilitated the creation of both the square of the sacred of the buildings that make up this, which possessed the most polished work of architecture of the city and buildings which not would have been able to be built if the largest Valley quarry had not been located in the close vicinity of the Plaza. Likewise, its high elevation provided the optimum point for the practice of the different both scientific and religious doctrines that this civilization grew, so it can be understood that the sacred Plaza was undoubtedly the Astronomical Observatory of the city.